Sewing A Lining Into A Crocheted Bag (works for knitted ones too)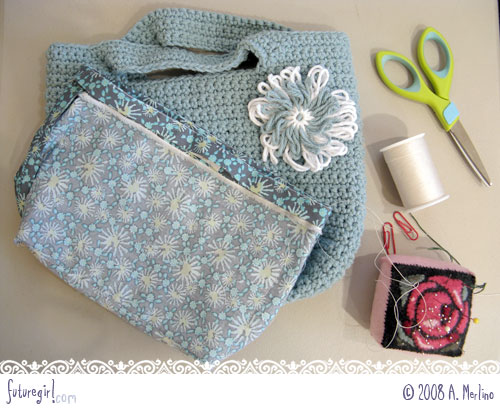 By Future Girl
I stumbled upon this on a craft blog by Alice Merlino (aka Future Girl) when I finished
Cinnamon
and
Peachy Keen
, my two crocheted bags. I couldn't think of how to line the bags without there being an obvious seam at the top or the bottom of the bag.
I was given illustrated instructions for one method from a family member, however, they are not a crafter and couldn't understand why their method wouldn't work.
After reading this tutorial I wondered why I hadn't thought of it myself. It's very simple and can be used for knitted bags too. I now use this method to line all my bags and they look professional each time.

Click the link to pop over to the site, and add another bow to your crafty repertoire.
Also check out this post on how to prepare the lining for the bag.
Lining Tutorial